Can Decentraland Record a Breakout? Time to Long MANA

Decentraland opens up a new opportunity in the virtual world. Now you can buy and sell digital real estate while interacting and playing games on this virtual land. The software is based on the Ethereum blockchain aiming to incentivise a global network of users. It has integrated interactive apps, peer-to-peer communication, and payment systems on this platform.
Interestingly there are two different types of tokens in Decentraland
LAND: It is an NFT that defines land ownership on this virtual reality platform. You can buy and sell them.
MANA: It is used to purchase LAND and goods and services on this platform.
It is based on a decentralized blockchain platform, which uses smart contracts to make any changes to the software. MANA users can vote on policy updates, land auctions, and other developments. 
Developers can make changes to the design and use the marketplace and drag and drop editor for interactive scenes. It enables users to manage and exchange LAND and MANA. Please note that all transactions are settled in the Ethereum wallet, so it is verified and secured.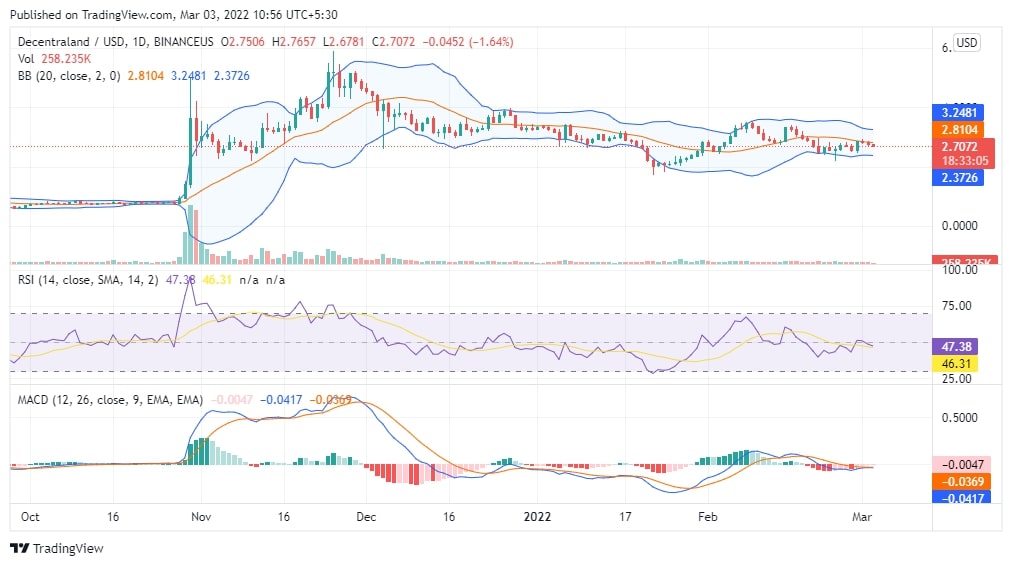 At the time of writing this analysis, the price of MANA is $2.69. It seems like a consolidation phase from the last three months. The price has been consolidating between $3.50 and $1.95. Is it a good time for short-term investment? Let's analyze the price trend of Decentraland. 
On the daily chart, MACD is on the verge of bullishness, and the RSI is below 50. Candlesticks are forming in the lower half of the Bollinger Band, which suggests bearishness. Still, we think it is a good chart for short-term investment with a target price of $3.20 as per Decentraland price prediction. However, it depends on your risk appetite.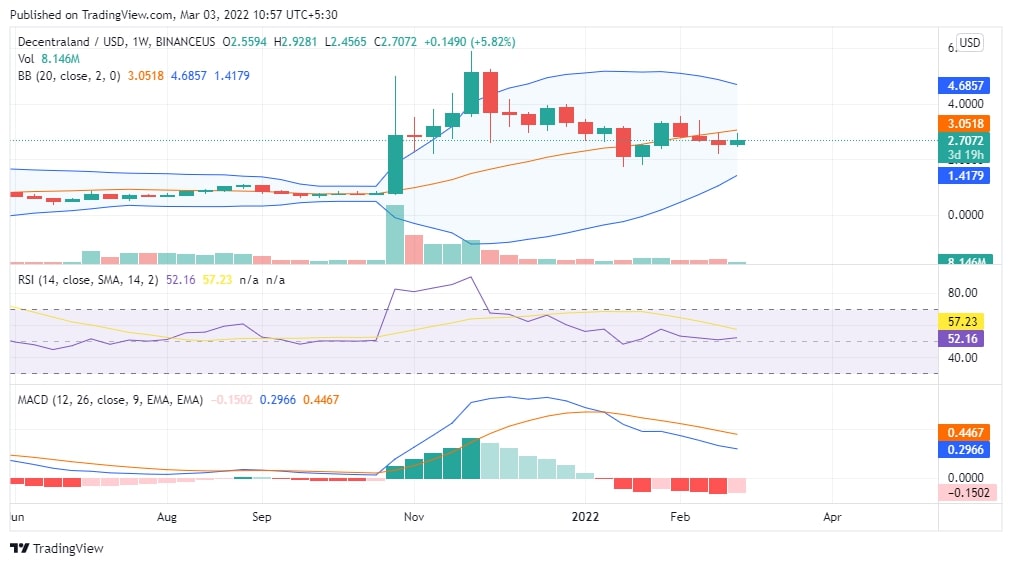 We can see a good bullish rally from the last week of October on this chart. After that, it has been consolidating and took support around $2.10. If we take it as a support level, then there is a probability that it may come down to that level again in the next month. The MACD chart is bearish, but RSI and Bollinger Band are stable.
Though it is in consolidation, we think it is an ideal time for accumulating this coin for the long term. If it falls further, you should accumulate more coins. Decentraland has a great future, and you should utilize this opportunity to reap the benefits of long-term investment.